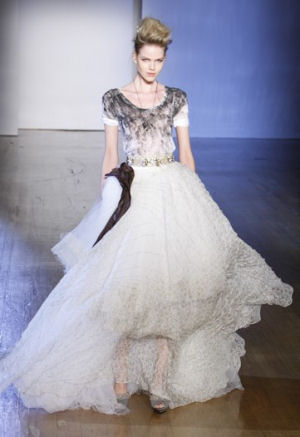 So after finding out that Kat MacLeod studied graphic design and then worked at 3 Deep Design was interesting. So I did a bit of research on this graphic company and realised that they remade the Toni Maticevski website! Cool! I looks so awesome!
Project information taken from their website http://www.3deep.com.au/projects/viewprojectinformation.htm?ProjectCategoryId=6&ProjectId=8&pk=778
Toni Maticevski is one of the most talked about fashion designers in Australia and fast becoming one of the most sought after internationally. With his signature manipulation of traditional fashion silhouettes and use of beautiful materials, Toni Maticevski's collections mark a desirable departure from conventional fashion. Tucking, twisting, and looping his textural fabrics into fascinating shapes, Maticevski believes every stitch and detail; every line and every shape should provoke an emotional response from both the wearer and the observer.
Challenging the traditional view of haute couture, season after season, Maticevski's sensibility, hidden in the forms and fabrics he uses, taps into his contemporary surroundings, music and everyday life for inspiration. After completing his Degree in Fashion Design with Honours at the Royal Melbourne Institute of Technology (RMIT), Maticevski worked in the local fashion industry, experiencing the fashion process from design to production.
He worked with Donna Karan early in his career, but soon made a pilgrimage to Paris where he took up a position at Cerruti for two seasons. Exploiting his garment construction abilities to the absolute limit, every Maticevski season is different while managing to hold its unique and uncompromising handwriting. Colours are interspersed within garments to provide unusual yet complementary moods to the collections. Through endless experimentation with cuts and colour, Maticevski explores the boundaries of fashion process and movement.
3 Deep Design have been engaged by Tony Maticevski to conceptualise, art direct and design all communication & special project requirements. Over the past 3 years, 3 Deep have developed an enviable creative partnership that is grounded in a mutual understanding of process and design practice. Projects established for the label have included;
• Visual identity & positioning
• Look book development
• Web development & technical deployment
• Image making & art direction
• Special commissions & installations
The constant challenge presented to 3 Deep Design is to nurture and develop Toni's presentation within the national and international fashion landscape. For more information on the project we encourage you to visit http://www.tonimaticevski.com or speak with Brett Phillips, Principal of 3 Deep Design. brett@3deep.com.au
So here is a little bit of the wonderful aesthetics everyone so enthusiastically raves on about!